Imprimante matricielle Android mobile Bluetooth de 2 pouces: le type d'interface d'imprimante à points OEM / ODM de l' imprimante fait référence à la façon dont l'imprimante à points est connectée au système informatique. À l'heure actuelle, les imprimantes courantes incluent le port parallèle (également appelé IEEE 1284, Centrics), le port série (également appelé interface RS-232) et l'interface USB .
Caractéristiques :
1. Capteur de papier: l'indicateur LED clignote quand arrive la fin du papier pendant ce temps;
2. Commande d'impression: ESC / POS compatible avec l'ensemble de commandes;
3. Puissance: 1 batterie Li-ion rechargeable de 4 00mAh;
4. Prise en charge des appareils Android et Windows (IOS en option)
5. Soutenez n'importe quelle langue, imprimante matricielle portable Android
6. Bluetooth V4.0
7. Chargement facile du papier
8. Bonne qualité avec prix bon marché compétitif.
9. Imprimante matricielle à points Bluetooth, imprimante matricielle à main, imprimante OEM / ODM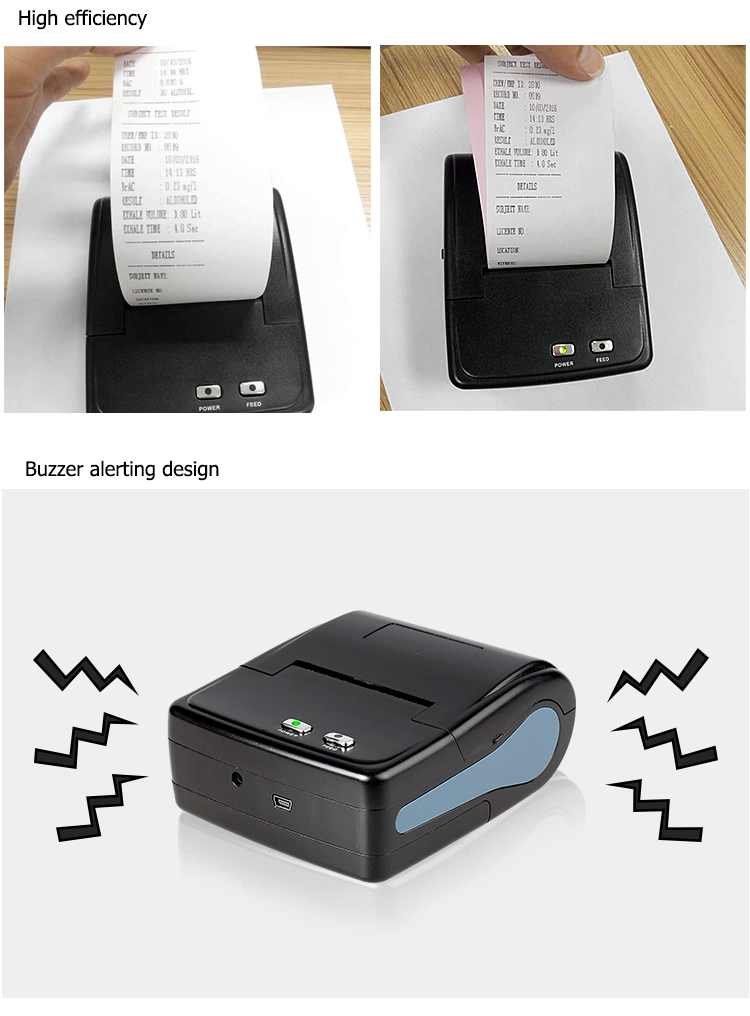 Spécification:
Printing Method

Thermal Line

Support System

Android/IOS (bluetooth) and Windows system(USB)

Effective Printing Width

48mm

Paper Width

79.5±0.5mm(3 inch)

Dimension

120mm*100mm*50mm

Printed Line Width

24 Chinese/Line 48 English/Line Or 36 Chinese/Line 72 English/Line

Encoded Code

GBK,BIG5,Unicode(UTF8)

Build-in Font

ASCII Font(12*24 8*16) GBK(24*24 16*16)

Printing Speed

70MM/S

Printer Life

60KM(25% printing dentsity or below)

Printing Content

English, numbers, various symbols, characters, pictures, 1D and 2D code printing

Resolution

8 dot/mm,203DPI

Data Communication Interface

USB 2.0 and Bluetooth V2.0

Battery

1400 Li-On rechargeable battery

Charge Methods

Standby Charge

Anomaly Detection

Paper-End Alarm,Low Battery Alarm

Put Paper Method

Clam Sheel Method

Paper Cut Method

Manual Tearing

Instruction Set

ESC/POS Compatible Instruction Set

Locate Mode

Black Mark Location,gap dentification

Power Port

DC 9V,3A

Accessories

Li-ion Battery,Power Adapter 9V,3A ,

Development CD,Instruction,Printing Paper,charging cable.
Garantie et retour
1.Tous nos produits et accessoires sont testés 3 fois avant l'expédition.
2.La garantie est de 12 mois, s'il n'y a pas de problème d'origine humaine, nous remplacerons ou réparerons votre appareil gratuitement.1% supplémentaire et des pièces de rechange seront fournies lors de la commande en gros
3.Nous possédons le meilleur service après-vente, en cas de problème, notre équipe fera de notre mieux pour résoudre pour les clients.
4.Toutes les marchandises sont inspectées avant expédition, donc si vous n'êtes pas satisfait de l'achat.vous pouvez échanger les articles en une semaine.
5.Tous les articles de retour doivent être dans leurs conditions d'origine, boîte et accessoires inclus.Les défauts causés par les hommes ne sont pas garantis, tels que cassés, rayés, etc.
6. veuillez envoyer par EMS ou votre poste local lors du retour.